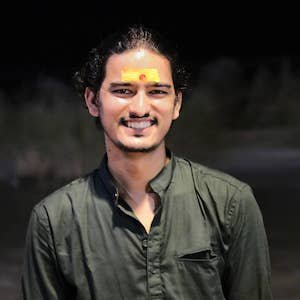 Mohan Chandra born in a Vedic family in the foothills of the Himalayas. From childhood, grew up in a spiritual society, learned and followed the spiritual path. His yogic journey started in his teens. He found the yogic path to be a natural way of understanding the mind, body and spirit.
Born in 1995, Mohan was taught spirituality and Vedic knowledge since childhood. He later explored his knowledge with yoga and its practices.
Mohan has spent many years in Rishikesh under many experienced yoga teachers. He has understood the knowledge of Yoga from different aspects, styles and traditions.
Mohan is a certified Yoga teacher. He has done post graduation (Master degree) in Yoga. He is a master of Hatha Yoga, Asanas, Alignment and Adjustment, Shatkarma, Pranayama techniques and various aspects of Yoga and its science. His deep understanding of body alignment and adjustment makes him an excellent yoga teacher.